---
HOME PAGE
Company Profile
Modern Packaging Sales began in 1977, and is in business to provide Packaging Machinery and Materials to the Nutritional Supplement industry.
What we do best - MPS is an OEM, selling and supporting Packaging Machinery (both Standard and Custom) and Packaging Materials required for bottling, blister packaging, packeting, and overwrapping of Nutritional Supplements.
MPS has the design, electrical and manufacturing capabilities and personnel required to complete this work in-house or at your facility. We provide consulting services to help you assess your production line equipment and materials requirements or to troubleshoot existing problems or bottlenecks.
Among other custom equipment, we have developed a unique Automated Feeding System for producing vitamin & supplement daily packets (such as those shown).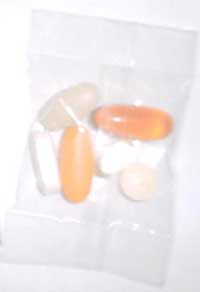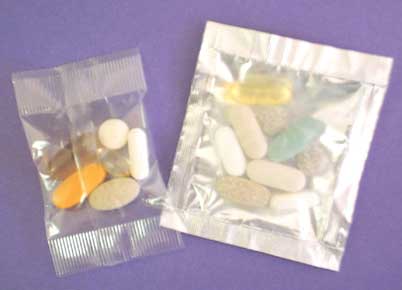 This Feeding system has been integrated with many different Vertical Form/Fill/Seal machines. These feeders function reliably and at relatively high speeds (up to 400 packets/min) with virtually any combination of capsules, tablets or soft gels (up to 12 per packet).
Some of the customers currently using our systems include: General Nutrition Products, Modern Health Strategies, Leiner Health Products, Nutrilite, Fresh Start Vitamins, Pack Labs, Nature's Sunshine, and others.
We also manufacture Capsule Inspection Tables for quality inspection of tablets and capsules. The unit shown has a large hopper for inspection of bulk products.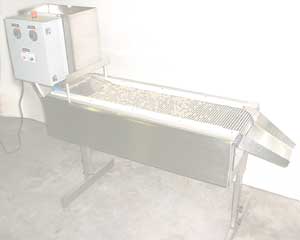 A similar unit we produce has an elevating conveyor for taking capsules directly from an Encapsulator polishing unit onto the inspection grid. The operator is able to accomplish all inspection as encapsulation takes place. A small hopper is located on the conveyor to allow for capsules to accumulate when the operator is too busy to inspect.