---
CAPSULE/TABLET INSPECTION TABLE Checker-1000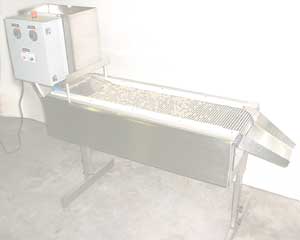 Modern Packaging Sales has been producing Capsule/Tablet Inspection Tables for over 6 years. We currently have 2 models available:
Model - Checker 1000
Vibratory Feeder/Hopper for Bulk Product Feeding
Up to 100,000 capsules/hr inspection capacity
Handles all capsule sizes - no change parts
9" Wide x 36" Long Rolling Inspection Grid
Stainless and Anodized Aluminum Construction
Model - Checker 2000
Elevating Conveyor to Deliver Product from Encapsulator Polisher
Allows for immediate inspection of product before bulk storage
Integral Hopper at base of Conveyor for Product Accumulation
9" Wide x 26" Long Rolling Inspection Grid
Adjustable working height of 33" to 39"
Our Inspection Tables are found in leading Nutritional Supplement facilities across America. Call us for references.
---