---
MPS AUTOMATED FEEDER SYSTEM Model 1201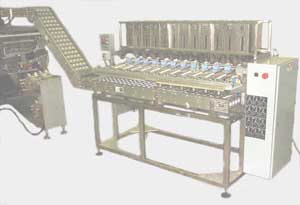 Modern Packaging Sales has been producing Automated Feeding Systems for almost 10 years. We provide integration to almost any Vertical Form/Fill/Seal machine whether it is a new machine provided by MPS, or a customer's unit. We can also provide and/or integrate downstream packet counting & Cartoning equipment as required.
Cost effectively creates Vitamin & Supplement Daily Packets
Up to 12 Products/Packet
Available in 2, 4 or 6 packet/cycle versions
Production speeds to 400+ Packets/Minute (product dependent)
Capable of handling almost all Gel-Caps, Tablets and Soft Gels
Multiple models available for your budget and production needs
Stainless and Aluminum Construction
Typical Feeder Footprint - 44" x 100"
Allen Bradley SLC-500 Series PLC Controls
Photosensor or Vision System Inspection Available
Touchscreen Control Panel Available
Our Feeders are found in leading Nutritional Supplement facilities across America including: GNC (3), Modern Health Strategies (3), Leiner, Nutrilite, Nature's Sunshine, Fresh Start Vitamins (2), Pack Labs and others.
---